There is still a desk scattered with signature cards, prints, gift bags, check out forms, and a busy atmosphere of overtime work. On the morning of January 2, 2017, this scene in the 101 office in Phoenix Building can't be more familiar to teachers Liang Yanqian and Dou Yi Li. But unlike in the past, during the preparation of the business supplies, they add a lot of stationery, toys and candy snacks and other children snacks.
A well-prepared, children-related, MPA alumni-related and the centennial celebration-related celebration of "New year of SUFE alumni and their family" begin.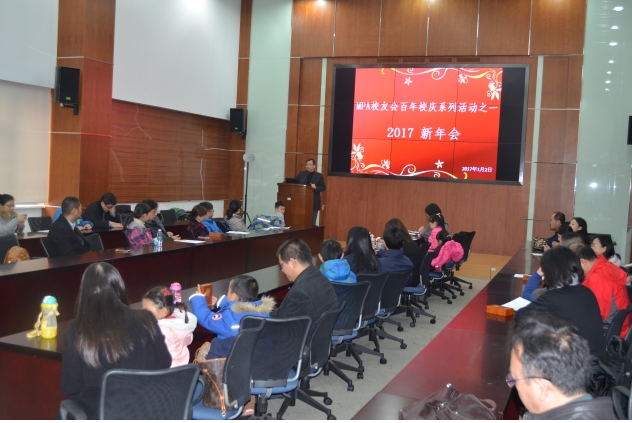 Haze can't stop them from going back home
The official start time is 10am. A quarter past 9:00, 08 alumni Qiao Yueqin arrived at the celebration with her son Chen Boyu first. "Haze is very heavy this morning, and it's easy to get in traffic jam as a result, so we should go out earlier." She is tilted with "MPA weather station" by alumni president teacher Song Jianmin, and her words always relate to her profession.
08 alumni Gao Feng from Jiaxing arrived next, and he said, "Foreign alumni's distance from Shanghai differs, but everyone has the same feeling, it's like going back home, which is never far away.
9:45 or so, 07 alumni Zhu Yanna with her family of three almost ran from the parking lot to the Phoenix Building. She said "Isn't it 9:45am for checking in the activities?" She has always been very careful about punctuality, and fear of missing something wonderful.
07 alumni Lv Xiaofei together with her lover and child set off at seven o'clock or so from Taixing. However, they didn't expect to be stuck in the traffic jam. Her child had carsickness, they arrived at school by noon as a result. "However late it is, we must come back to my alma mater especially this time. I have a sense of mission to come back to the alma mater. Although my son doesn't feel well, he insists on coming."
Through doing statistics roughly, from the perspectives of gender, among the presence of 23 groups of families, there are 14 female alumni with children, 9 male alumni with children; from the perspectives of children's age, the youngest is 4 years old, the largest is 13 years old, mainly were born after 2000, others were born after 2010; from the perspectives of participators' class, most of them were from the "Huangpu stage-one" (06) class in Shanghai, which includes eight groups.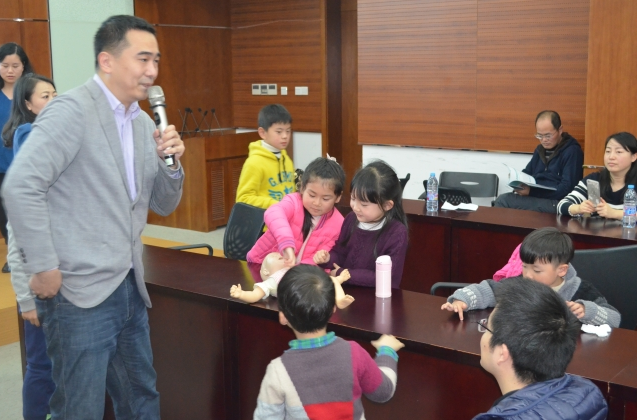 University turns innocent, innocence walks into university
Teacher Song Jianmin and vice president of MPA Alumni Association Wang Xiaoshen led the planning of the event, and other relevant alumni involved in the organization and implementation. Taking into account the participation of children, activities in the morning was held together, increasing the interactive elements; the activities in the afternoon were set in separated space: alumni listened to lectures, while children participated in games and mysterious activities under the leadership of the volunteers.
Liu Xiaobing, the current president of the SPEA, did not prepare a speech in the welcoming process, because he was not only facing the MPA alumni but also their children, so it's difficult to let everyone understand his speech. He admitted that this was his first time to join in the activities of family going back to school, and enjoyed the feelings of talking with families instead of making speech. So, both the introduction of basic situation of the public school and inquiry of children's future ambition were as simple as possible, which were all down-to-earth. During the period, the children born after 2010 were busying playing with the toys on the table, as this was clearly their first time to have a "meeting" and they had no "experience"; the children born after 2000 are more dedicated, although some children didn't fully understand, but they were curious enough; some children were seriously doing notes ... ... all this, were really going along with the activities.
Dong Shuo is a junior student major in public finance in the SPEA. She was invited to talk about her experience in school, life and extracurricular activities (full text attached). Her speech was easier to understand with vivid PPT presentation. Her speech content was so wonderful that aroused both alumni and their families' feeling, as if their back to their own university. Children stood up from the seat as they saw the cat, 99th anniversary celebration cake, and other familiar photos appeared on the PPT.
During the next visit to the entrepreneurial center, library, canteen and the experience of atmosphere there, children all behaved themselves regardless of age. It was the time for final exams, the library was overcrowded. The lively children suddenly became quiet as they went into the library, and listened to the administrator teacher's introduction, whispered, under the leadership of their father and mother. They were curious about everything as this is their first contact with all the scenes there. Those students who were preparing exams cast a curious look to these children, which is quite rare. While dining in the canteen, children held the plate and lined up following adults. After the meal, they brought the tray to the bowl collect area. The meal with two meat dishes and two vegetables won their unanimous acclaim "Delicious!", and they agreed that the most delicious "hard vegetables" is pork steak with tomato sauce.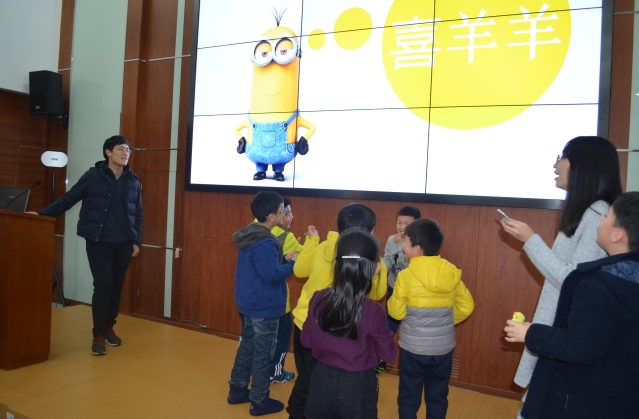 Parents study well in order to let their children make progress every day.
The first arrangement in the afternoon was still held together, listening to the sharing of "Children's First Aid Knowledge and Experiences" taught by FrankWu, head of the Sharing Yue An Health Promotion Center. This sharing was arranged for the family to listen to, however, children rushed to answer the questions with a variety of answers.
The Yue An Health Promotion Center is a nonprofit professional organization dedicated to promoting universal health and safety education and eliminates or mitigates health risks by systematically promoting health promotion programs. Mr. Wu has a wealth of experience in the face of a variety of people. The sharing this time was also very well prepared. But he felt fresh this time when the children rushed to answer the questions, such as:
Q: "What is the number for the first aid patient?"
A: "110!" "Di-Di(onomatopoetic word)!"
Q: "How to deal with scald?"
A: "Wiping toothpaste!"
Q: "What should be put in the meidcine chest?
A: "Stickers!" "Band-aid!" "Medicine!"
Q: "How to do artificial respiration?"
A: "It depends on who do it for. I do this for my families, my friends, my loved one and people who like me!"
Variety of answers made everyone burst into laughter.
After that, the children were left in the 302 conference room, playing games led by the volunteers and showing their talents. Alumni then went to the 304 Lecture Theater to share children rearing lectures.
There were two lectures and a guest sharing for parents. Cheng Minfan , alumni of "Huangpu stage-one "and principal of the second central primary school in Jing'an District, shared her opinions on the topic of "How to be good parents from the perspective of principals of primary school". She involuntarily jump from the role of the president to the mother's role, and talked about how to be good parents, how to get along with the children.
"Some parents may have misunderstanding towards children's education, they think that school should be responsible for children education, as parents are too busy to educate children, and they just let nature take its course. Another thing is that parents are keen on after-school classes. In order to help children achieve full development, parents let their children take part in classes for instrument, chess, writing and painting. To be honest, the goal of education is to teach children how to be a good person. Parents should improve themselves in order to educate children. Parents should do their best to encourage children to become the best of their own and lead the child to become a real self." When talking about how to communicate with the teacher, she preferred face to face communication to communication through mobile phone, and said that parents should respect and understand teachers. What's more, as to how to accompany children, parents should help children develop the ability to complete the work independently, encourage children to communicate. First-class parents are examples, second-rate parents are coaches, third-rate parents are nanny. (This paragraph refers to the 2009 alumni Fu Zhangjie's classroom notes)
Zhu Xueqin , the deputy director of Shanghai Science Parenting Base , started from the perspective of working women, helped the alumni with the role of mom ease their psychological pressure within eight hours. Alumni reflected that the opinion was theoretical and targeted, the logic was careful, the thinking was clear, which had led to resonance.
The next guests were teacher Yang Danfang from the SPEA, teacher Tang Li from Fudan University, Yunzhao Kun from the world's largest medical device manufacturer Medtronic and teacher Song Jianmin. Teacher Yang Danfang 's son is studying at Princeton University, teacher Tang Li has the experience of educating children in the United States and China, and Yunzhao Kun is the graduate recommended from the undergraduate students in SUFE. They described the difference between the educational environment at home and abroad, as well as the two aspects of education and cultivation from different angles. Teacher Song highlighted when she talked about her daughter's education "No matter where you are, parents should be children's harbor, to cultivate a mentally healthy child." She revealed that she had wrote letters to her daughter for four years as psychological counselor named angel. She answered the child's psychological secrets and questions, and her child didn't know it was her mother, which had result in a miraculous.
"The most touching thing is that teacher Song said that her child may not be the best person. Her child is a doctor in Japan, and has a peaceful state of mind. Her child keeps the rule and is careful, hard-working and loving" said alumni Fang Jihong of " Huangpu stage-one"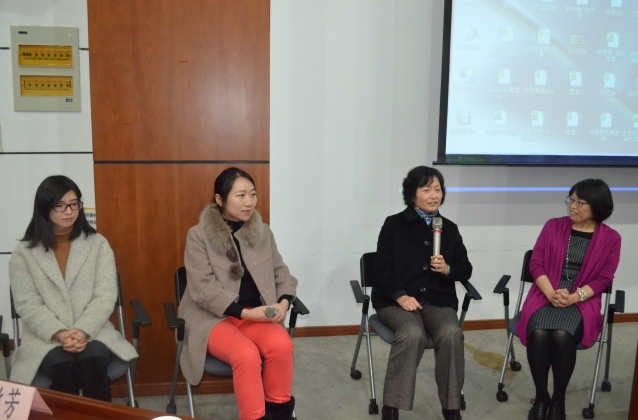 I'm here waiting for everyone
The event was confirmed and started planning at the MPA Executive Council on November 5 last year. Teacher Song Jianmin made a special trip from Japan back to Shanghai for this. She invited guests, found volunteers, coordinated center to contact the library, canteen and conference room, and mobilized alumni to actively participate the activity. At the same time, Xiao Xun and teacher Song carefully came out a variety of plans and coordinated alumni to divide the work. Xiao Xun sought advice and rewrote the plan for several times. She confirmed the plan repeatedly and implement the plan on the spot.
The day before the activities, teacher Song's inadvertently sentence "I'm here waiting for everyone tomorrow" touched the alumni in the WeChat group. On the day of the event, even if the alumni were blocked on the road and sent information about their late on the WeChat constantly, teacher Song was still replying gently "Everyone pay attention to safety."
08 alumni Huang Qingwei said "When we were leaving that night, teacher Song and Xiao Xun said goodbye to us, teacher Song kept saying thanks for our efforts, which was touching. Thanks mentors! We go home happily and accept hospitality, while teachers carefully prepare the event. They have been busy for the whole day, but they still thank us for our arrival, we are ashamed and grateful!
In addition, alumni as seniors who heard this event also volunteered to contribute their own rich resources to the activities. Mr. Faank Wu and deputy director Zhu Xueqin were invited by 2012 alumni She Wenqing to broaden the perspective of the event.
Ding Wei from "Huangpu stage-one " was a busy person in the alumni group. He services others with enthusiasm like a chairman of the union as always. The day before the event, he helped the center teacher to move the conference supplies by driving. On the day of the event, as there were work to be done, he asked his wife to take his daughter with her and check in for him. Learning the urgent need for photographers, he then invited his friend "Jimmy grandfather" to help. He also prepared 12 Cambridge Foreign language cards and 12 boxes Ferrero chocolate as a game prizes for 24 children who took apart in the activities. During this period, he did not forget to play the song "good day" for the "music breakfast", and send out red packets to attract attention within the group.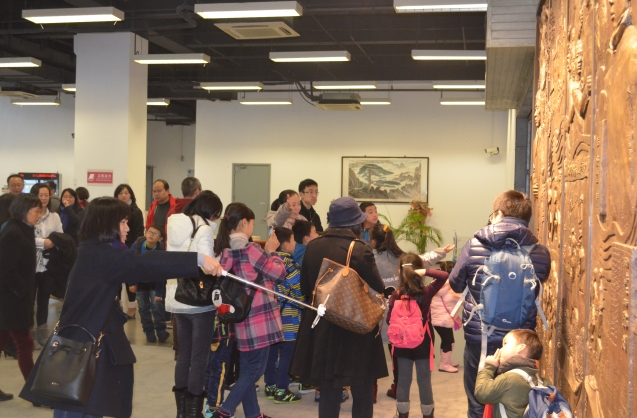 It is worth mentioning that Dong Shuo and other four friends of her, namely Li Xingchen, student from third grade of the public finance major in SPEA, Peng Yishu, Xie Liangjie and Sheng Lingyu from the investing major have composed of volunteer team. They were faced with final exams, but were still actively involved in interaction with children, implementing programs, and practicing in advance. Their "mysterious" game is revealed here: this game is to imitate the situation of Shanghai TV news channel's "super parents", communicating with the children back-to-back, putting forward the question for children to answer in the space separated from their parents. We can see from the video that children are true and natural and their babble was innocent. The audience can't help laughing. This is an ending for this event.
Huang Qingwei said that her son Xiao Xin said to her affectionately at home after the event "Mom, your kindergarten is so great, I want to be in your kindergarten in the future!"
Qiao Yueqin, who was the first to the scene and the last to leave, couldn't help but embrace teacher Song, and said with excitement, "Today, I really feel a sense of belonging to the MPA alumni, it is the sense of backing home!"(The End)