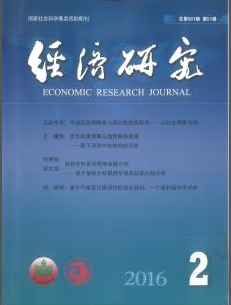 Our SPEA teacher Guo Changling Published Paper on Economic Research Journal 2016 vol.2. The name is The Forgotten Aggregate Supply: Will Fiscal Policy Expansion Lead to Inflation.
It is generally believed that the expansion of fiscal policy is an important cause of inflation. This paper, introduced productive government expenditure to Dynamic Stochastic General Equilibrium Model, conducted Bayesian Estimation with China's 1998Q1- 2013Q4 Macro Quarterly Data, re-examined from theoretical analysis and empirical study, and finally led to the conclusions. The first is that, productive fiscal policy expansion led to inflation through aggregate demand, and curbed inflation and its expectation through aggregate supply, and this is related to productive degree of government expenditure. When productive degree is high, fiscal policy would mainly affect through aggregate supply, and curbed inflation and its expectation. The second is that, showed in the result of Bayesian Estimation, China's fiscal policy was not the main reason of inflation in sample period. These conclusions are very robust under different preferences, investment adjustment cost function and labor market settings. In addition, the research on fiscal policy under the impact of news showed that, early release of relevant policy information could, through guide public expectation, play a positive role to stabilize economic fluctuation.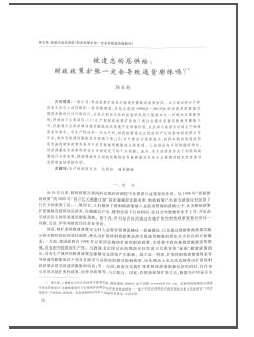 Economic Research Journal is the most authoritative journal in Chinese Economics field and has profound influence throughout academic circles home and abroad. This achievement is also the phased achievement of National Natural Science Foundation Youth Program Research on Macro-control Policy's Economics Fluctuation Effect under the condition of Financial Frictions----Based on theoretical analysis and empirical research of China's Macro-control practice(Project No. 71403040).