In the afternoon of December 10, 2017, Mr. Li Zhichao, the deputy director of Singapore Police Training Bureau, carried out a lecture on comprehensive administration of social security in Singapore in the third teaching building 204, for MPA students.
Mr. Li Zhichao is the deputy director of the Singapore internal affairs team school of the Police Training Bureau. In 1980 he joined the Singapore police force and served in more than 10 positions in the police system (such as deputy director of the Bureau of international cooperation, National Central Bureau of Interpol Singapore strategy case of private security companies assistant commander of the police force, police training school affairs team - Deputy Secretary and so on). His work experience basically involves all levels of the police system. He has rich front-line experience and high-level management experience. He is a senior government expert who knows Singapore's social security comprehensive management well.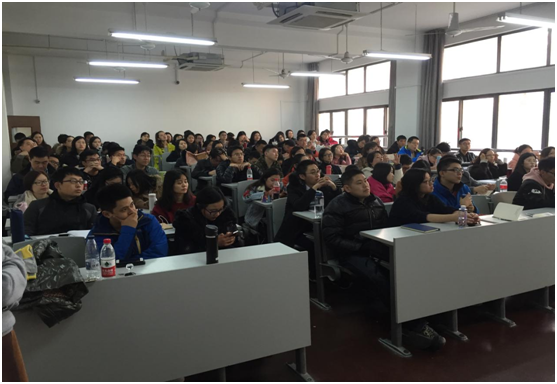 From the history of Singapore, Mr. Li introduced the nation, the composition of the government and the composition of the police force in Singapore. After that, the situation of the police force in Singapore was described in detail.
1. The mission, concept, values and vision of the Singapore police are introduced.
2. Three strategic guidelines for the police work, strengthen the ability to act, enhance the ability to organize the organization, and promote the partnership with the community.
3. Establishment of the adaptability of the organization.
4. The service system and honor of the Singapore Police Force.
At last, Mr. Li summarized the public security management and practice of Singapore for three: rule of law, comprehensive education, real implementation.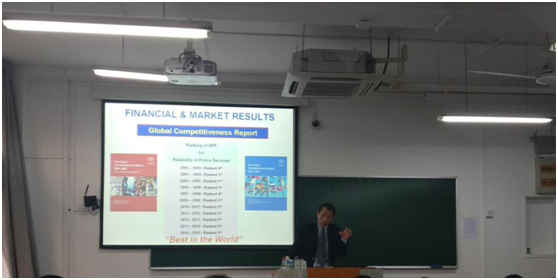 The lecture lasted nearly two hours, but the students do not feel boring, They benefit a lot from examples among the caning,、ad boy prison visit,、eemployment of released prisoners、ngapore F1 racing and casino management. Mr. Li not only explained the management and practice of public security in Singapore, but also conveyed his life experience to his classmates, such as the most important "2H" (HAPPY AND HEALTH). After the lecture, students asked questions enthusiastically, Mr. Li also answered one by one. Finally, the students gave a warm applause to Mr. Li's wonderful lecture and expressed great admiration for the social security management in Singapore.